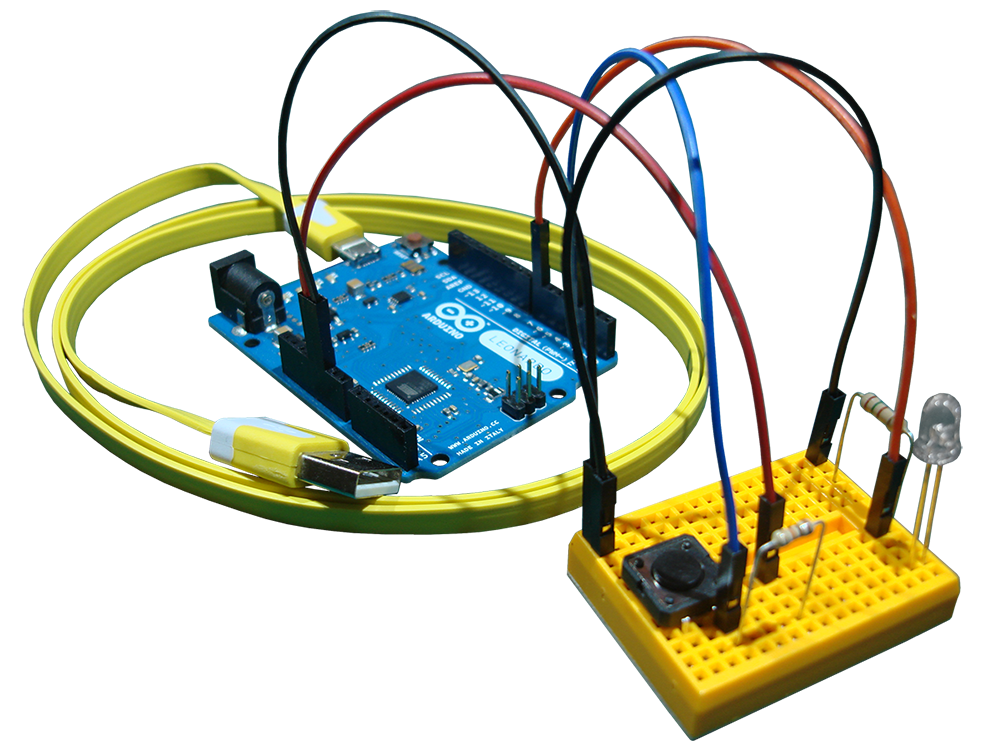 Here we are. The time has come to build our first projects. We'll meet the components in our disposal, figure out how to connect them, and then all we have to do is code. Code. Code… Code something useful that can make our everyday lives easier, or perhaps something fun that can entertain us. There is no stopping you from building anything… from the silliest children's toy to the next spaceship that will travel to Mars!
Arduino Code
---
Breadboard
---

Before we move on with examining electronic components, we have to get introduced to the single most useful tool in our workbench that will be present in all of our projects. This is the breadboard. The breadboard will be the basis for our circuits. We will place the various components in the holes and then use extra wires to make the interconnections.

From inside, the breadboard has the structure shown above.
The inner holes are connected together vertically. So, a group (column) of 5 holes in the breadboard represents a node in the circuit. We place the leads of a component in different columns, and connect the leads of different components together with wires. The holes in the middle are not connected together. These holes have a special purpose. This is where we place ICs, so that two opposite pins are not short-circuited.
The outer holes are connected together horizontally. These interconnected holes form the power lines. This is where we bring the
and
voltage references. From there we take those voltages with wires to the components. Attention must be payed, since some breadboards break these power lines in the middle (red parts shown in the figure). In that case, left and right sides are created on the power lines and are not connected together.
LEDs
---
Let's write some code now. We'll start with the famous blink example. This example uses an LED and an output pin on an Arduino to control the LED. In the code, we turn the LED on for a second, then we turn it off for another second, and then we repeat.
Buzzers
---
Conclusion
---
In this tutorial you've learned about LEDs and buzzers. At this point, you know how to connect them and how to use them. Now clone the examples to your account, try out some variations in the code, and see how it all works out. We'll get back next time with some new components!
---
The Schematics were based on fritzing.
Images are CC BY-NC-SA 3.0.