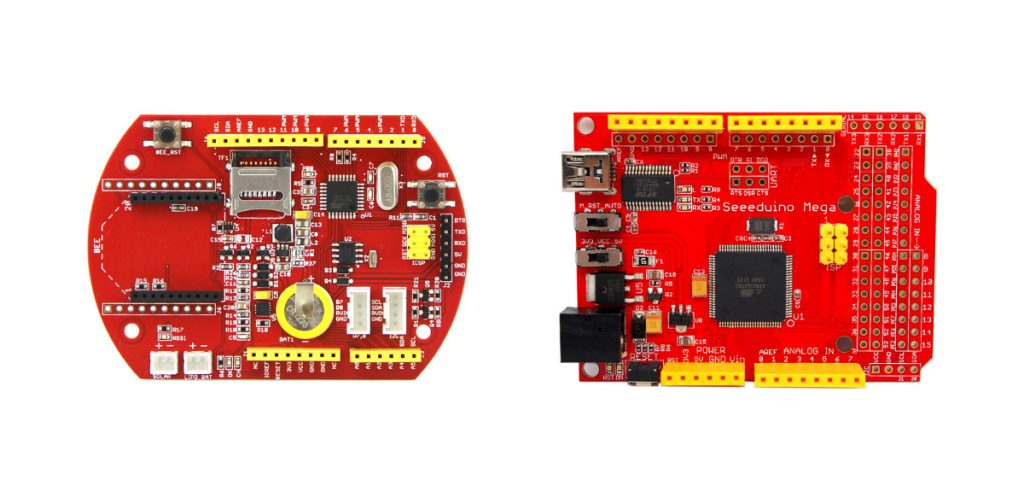 We are super excited to welcome two new boards in the codebender family!
Manufactured by Seeed Studio,  a hardware innovation platform for makers to grow inspirations into differentiating products, the Seeeduino Stalker v3.0 and the Seeeduino Mega provide you with even more options for your projects.
The Seeeduino Stalker v3.0 is an Arduino compatible Wireless Sensor Network node ideal for outdoor logging applications and for tracking, monitoring and controlling your projects. Thanks to its structure and onboard peripherals logging time-stamped sensor data on a periodic basis becomes a piece of cake. It comes with an RTC with backup power, SD Card Socket, Bee Socket and Solar based Li-Ion Battery Charger and it has an X-Bee carrier board that can be used with other X-Bee modules, such as the GPS Bee, Bluetooth Bee, Wifi Bee and more.
The Seeeduino Mega is a flexible, powerful board based on Arduino Mega that comes in a much smaller size. The power of its ATmega2560 processor along with its compatibility with the large variety of Seeed Shields makes it great for carrying out bigger projects. Moreover, it features selectable operating voltage (3.3V/5V), right angle reset button and much more.
Learn more about the Seeeduino Stalker v3.0 and the Seeeduino Mega and explore their potential in codebender!